Additional information
Child override
Child override

The cells of algae and aquatic plants can be thought of as a series of well-engineered structures. These structures are made of complex proteins, carbohydrates, lipids, and minerals. Chlorophyll is stored within the chloroplasts in the cell, and chlorophyll is how a plant gets it energy to grow from sunlight. This intricate framework allows algae and aquatic plants to grow and thrive while aiding in resistance to chemical treatments.

Improving the performance of contact algaecides and aquatic herbicides

Contact algaecides (copper products, peroxides, and diquat) must contact the cell wall and enter the cell to be effective.  Lack of penetration and intercellular movement of these chemistries reduces their effectiveness.  REGEN-Enhancer degrades dead plant cell walls and weakens cellular integrity when used with an algaecide formulation.  Killing all susceptible cells reduces the risk of algae developing any resistance to

Improving the performance of systemic herbicides

Systemic herbicides (i.e. glyphosate, imazapyr, or triclopyr) travel through the cell disrupting processes such as amino acid synthesis, cell division, and photosynthesis. Systemic herbicides tend to work slower, but they do translocate into multiple parts of the plant (1). However, herbicide resistance has been studied in detail (2) and can reduce overall treatment performance and consistency.  For this reason, we focus on a complete degradation of the dead plant structure and aquatic herbicide dispersion to all susceptible cells.

When combined with systemic herbicides, REGEN-Enhancer speeds movement into the cells by breaking down the cellular framework of dead cells, promoting rapid nutrient recovery, and decomposing dead plant material from the inside out. REGEN-Enhancer works synergistically with systemic herbicides and ensures thorough and complete degradation of dead aquatic plants.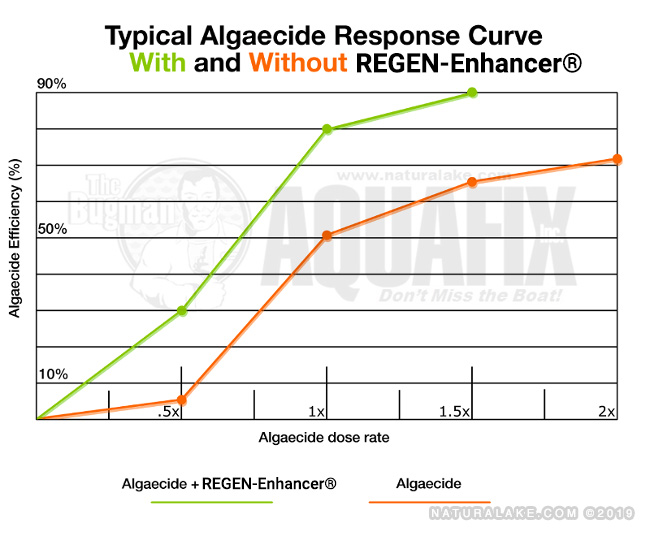 NOTE: REGEN-Enhancer DOES NOT kill aquatic plants or algae.
Child override

Common Uses
Lakes and ponds
Aquaculture
Hatcheries
Water features
Golf courses
Retention ponds
Decorative Ponds
And more!
Benefits
Used as an adjuvant
Speeds chemical reactions
Cleans up dead plant matter
Rainfast via improved absorption
Less chemical use
Safe for environment and applicator
Available sizes
9.4-litre jug
208-litre drum
1040-litre tote
| | |
| --- | --- |
| Ingredients | Biostimulants, select cultures, and other proprietary ingredients |
| Description | Black liquid |
| Odor | Fermentation odor |
| pH | 4.8 – 6.0 |
| Stability – Activity loss | At 24°C for 12 months*: 10% or less; At 38°C for 6 months*: 10% or less; *When stored as directed in a sealed container out of direct sunlight. |
| Storage and Handling | Store in a cool, dry space between 10 – 27°C. |
Child override

When mixed with algaecide or herbicide:

*Best when mixed with AquaSticker for planktonic algae and aquatic plants.
**Do not mix directly with peroxide based algaecides.
| | | | |
| --- | --- | --- | --- |
| Surface Acres | Filamentous Algae | Planktonic Algae* | Aquatic Plants* |
| 1/4 | 0.47 – 2.8 litres | 0.47 – 0.95 litres | 0.47 – 1.9 litres |
| 1/2 | 0.95 – 5.7 litres | 0.95 – 1.9 litres | 0.95 – 3.8 litres |
| 1 | 1.9 – 11.3 litres | 1.9 – 3.8 litres | 1.9 – 7.6 litres |
| 5 | 9.5 – 57 litres | 9.5 – 19 litres | 9.5 – 38 litres |
| 10 | 19 – 114 litres | 19 – 38 litres | 19 – 76 litres |
| 100 | 189 – 1135 litres | 76 – 379 litres | 189 – 757 litres |
Child override
Commonly treated algae and plants:
Filamentous Algae
Pithophora
Cladophora
Spirogyra
Hydrodictyon
Planktonic Algae
Aphanizomenon
Chlamydomonas
Aquatic Plants
Hydrilla
Hygrophila
Torpedograss
Alligator weed
Duckweed
Salvinia
Other plants
Child override