Additional information
Child override

PL-IND has been used successfully for more than 40 years around the world. PL-IND helps to improve effluent treatment systems without the need for capital expenditure.
A breakthrough in modern microbiology once thought impossible to achieve, PL-IND technology differs from other biological products in concept, microbial composition and performance. Comprised of a wide consortium of vegetative microbe's that include photosynthetic bacteria, heterotrophs, chemotrophs, autotrophs and archaea in a shelf stable liquid formulation, this technology has consistently demonstrated the capacity to restore and improve environmental processes where competitive products have failed.

Based on wide-ranging metabolic pathways and processes including aerobic, facultative, anaerobic and anoxic capabilities, these products are designed to respond to the unique requirements of the system being treated. PL-IND technologies provide the biological tools needed to support environments at all stages with different types of support depending on specific needs. No competitive technology can offer comparable range of capabilities.

Bio-Augmentation

Chronic problems such as toxicity and poor removal of difficult or recalcitrant compounds occur because the indigenous biomass simply does not have the required degradation ability. This is a biological problem. Toxic compounds often inhibit or destroy a portion of the cellular metabolic machinery. Non-biodegradable and recalcitrant compounds often contain little food value and are therefore overlooked in favour of energy-rich foods.

Continuous addition of a maintenance dose of PL-IND consortium of bacteria cultures that are targeted towards specific compounds can establish and maintain the desired degradative ability in the biomass. These abilities already developed in our cultures are strongly expressed during production by exposing the cultures to high levels of the targeted compounds. However, unless the system environment continues to select for these specific abilities, the bacteria can revert to simpler food sources. In other words, their degradative capabilities are not 'locked' into a specific compound. It is also true that the growth rates of bacteria strains that degrade difficult or recalcitrant compounds are often low, resulting in their being 'washed out' of the system unless they are regularly replenished.

Periodic problems, such as shock loads, variable loadings, spills and toxic upsets can simply overwhelm an indigenous biomass, causing instability in effluent quality. This is a fact of life for a majority of industrial plants, whose waste streams vary with seasons, plant spills, raw material availability, new process start-up, expansion of business, and so on.

The proper application of PL-IND technology almost invariably increases plant stability by imparting characteristics to the biomass that allow it to respond much more rapidly to loading fluctuations, significantly reducing effluent variability except under the most severe upset conditions. In the event of a severe upset (e.g. pH < 2.0 or sudden influent of toxic chemical in the influent) the system will recover in a considerably shorter time with this bio-augmentation.

Bio-augmentation performance is influenced by many external factors making it impossible to predict the exact outcome of any treatment. Anyone who claims that they can predict the exact outcome of a biological remediation program is NOT telling the truth.

The Value of Bio-Augmentation

When considering the value of bio-augmentation to wastewater processes and environmental programs where biology already exists in great numbers, one must ask; why add additional microorganisms to a biological system or process that has billions of active biological catalysts?

The answer to this important question considers the rate of biodegradability of the substrate within the environment and the time that is required to biologically breakdown, oxidize and 'remove' the matter from the environment.

Few people understand that not all organic constituents are degraded at the same rate in terms of time. What is important to understand is that difficult and slow to degrade material such as FOG (fat, oil, grease) and chemical agents are held on the outer cell membrane for much longer periods of time because they are more difficult for the microorganism to enzymatically breakdown, absorb and convert to cellular energy (removal). The diagram on the following page shows a drawing representing how bacteria function in their slow steady process of removing organic matter via a process termed adsorption and absorption.

The drawing has boxes with some boxes marked in red. The boxes represent the bacteria's receptive sites where material lands on the cell and is then enzymatically processed. The red coloured boxes indicate the microbe's cellular retention of constituents that are slow and difficult to degrade. These constituents land on the outer cell membrane during what is termed first stage adsorption that occurs within the biological process and they are retained on the cells receptive sites due to the microorganism's inability to enzymatically break them down to small molecules thereby resulting in cell loading.

This means the organic matter that attaches to the cell can't easily be enzymatically removed at the same rate as organic matter that is easy to degrade. In most cases the materials that are slow to degrade stay on the outer cell membrane affecting and slowing biological oxidation-reduction resulting in solids accumulation.
The use of bio-augmentation with the unique cultures Parklink utilise has demonstrated and shown to effectively promote biomass enhancement functions and processes promoting the capability to breakdown, adsorb and absorb a far wider range of difficult and slow to degrade compounds, and at a much faster rate thereby reducing or eliminating cell loading and solids accumulation in biological processes.

This technology reduces final effluent BOD, COD, SS, improves settling in clarifiers, drives nitrification for improved ammonia removal, achieves rapid anoxic denitrification, reduces waste sludge, and biologically controls hydrogen sulphide. It is noteworthy that the bio-enhancement process requires a period of time for the microorganisms to acclimatise to the substrate and develop accordingly to achieve these improvements. The normal delay in biomass enhancement may be 10 to 15 days prior to achieving a noted improvement however hydrogen sulphide reduction and odour abatement may be achieved within as little as 24 to 48 hours.

The diagram below describes the biological enzymatic process to include extracellular enzyme functions at first stage necessary to break down particles attached to the outer cell membrane so they can be absorbed into the cell. In simple terms the ambient populations normally contain few organisms that have the capability of breaking down and removing modern day compounds. The diagram describes cell bound enzymatic and intracellular enzyme functions essential to organic removal. These capabilities differ within the microbial community, and most indigenous microorganisms fail to breakdown and remove constituents that are difficult to degrade. These materials end-up on the bacteria (cell loading), slowing biological functions, increasing toxicity and resulting in accumulated solids.

The addition of these select vegetative microorganisms provides the ability to degrade a far greater range of difficult compounds thereby reducing bio-mass toxicity, improving overall bio-diversity capabilities, and resulting in sludge reduction. It is note-worthy that this consortium offers microbial processes and pathways that include aerobic, anaerobic, facultative and anoxic reactions assuring far greater oxidation reduction capabilities. They drive the nitrification process for ammonia removal, and promote rapid anoxic denitrification for nitrate reduction. Few, if any technologies offer these combined capabilities.
Bacterial Growth
The diagram below describes the biological process and its time frame. The biological oxidation reduction process consists of the following:
Lag Phase – The period the microorganisms require to identify the substrate and then produce the necessary enzyme reactions. This can vary for different substrate.
Log Growth – The process where the microorganisms are responding to the substrate in cell growth.
Stationary Phase – Where the microorganisms will develop to equal the waste matter – often referred to as the F to M ratio (food to mass/microorganism). At this point you are seeing the result of the biological process in terms of good organic removal.
Death or Declining Phase – The microorganisms decline as the food supply is reduced.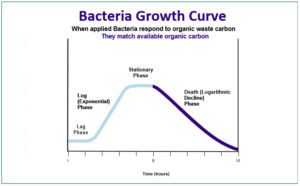 The use of this unique consortium will promote and assist in a more rapid development of the essential biology with the capability to breakdown and degrade matter that is slow and difficult to degrade, reducing cell loading and sludge accumulation; however the time frame for removal will still have to take place over a number of sludge ages in an activated sludge system.
The concept of bio-augmentation is to enhance biomass performance by assisting the indigenous microorganisms in the combined capability to breakdown and remove a greater range of organic matter and at a faster rate.
Parklink's bacterial products are extremely efficient for a number of reasons and is the largest consortium multi-strain bacteria in the industry. Unlike competitive 2-6 strain bacterial products we offer 29 strains that handle all of the biological processes found in a waste system whereas our competitors handle but one or two of the processes. Our bacteria is organic and natural, completely safe and pathogen free. It has a guaranteed shelf life of 2 years. The nature of our consortium leads to an interesting phenomenon that is explained in its simplest form as self-selection. Because we have such a wide range of bacteria functioning over different processes our bacteria flourishes in almost any environment. The moment it is introduced into a system the availability of different types of waste will encourage the growth of the specific bacteria for that type of waste. This gives us the most successful bio-augmentation product on the market today.
Child override
Accelerate recovery from upsets and shock loads.
Accelerate breakdown of surface crusts and floating organic solids.
Accelerate breakdown of bottom sludge.
Associated with more rapid maturation of grasses in the paddock and increases in dry matter tonnes.
Reduce or eliminate the need for dredging.
Break down solids in effluent ponds, making them irrigatable.
Significantly reduce odours
Improves solids settling.
Improves soil biological health
Child override

Contact Parklink for dose rates specific to your application.
Child override
18.9 litre pail (5-gallons)